About Us
The Gurkha Delight is a Indian takeaway in Dover. Why don't you try our Gurkha Masala or Chow Mein (Large)?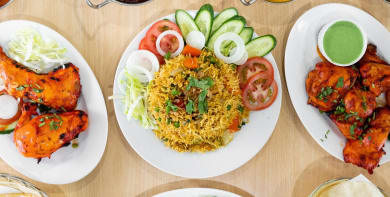 Reviews
228 reviews
Steve
"Once again first class food. Well worth the money 😃"
26/01/2021
Angela
"Although it was late it was very hot. The quality of the food was a 5 although the tikka wasn't like tikka I've had be for was just like a tomatoy sauce although it was nice 😋"
23/01/2021
John
"Always love the food from here, never had a bad meal"
23/01/2021
Baz
"Great meal everything was hot and very tasty 👍"
23/01/2021
Menu
Chilli Momo (10 Pieces) Chicken
Dumplings pan fried with chilli, pepper & tomato in chef's special spicy sauce most popular Nepalese appetizer. (Please allow 40 minutes to deliver)
Separate chutney
£6.00
Chilli Momo (10 Pieces) Pork
Dumplings pan fried with chilli, pepper & tomato in chef's special spicy sauce most popular Nepalese appetizer. (Please allow 40 minutes to deliver)
Separate chutney
£6.00
Steamed Momo (10 Pieces) Chicken
Steam cooked and served with homemade chutney
£4.99
Steamed Momo (10 Pieces) Pork
Steam cooked and served with homemade chutney
£4.99
Jhaneko Sekuwa Chicken
Marinated chicken or lamb chunks barbecued in tandoor then pan fried with fresh herbs
£5.50
Jhaneko Sekuwa Lamb
Marinated chicken or lamb chunks barbecued in tandoor then pan fried with fresh herbs
£5.50
Jhaneko Sekuwa Pork
Marinated chicken or lamb chunks barbecued in tandoor then pan fried with fresh herbs
£5.50
Gurkha Tradition Himalayan Curry Chicken
A fresh mint flavoured curry cooked with homemade green chutney, a hot curry cooked with onion pepper green chilli and homemade yoghurt
£5.99
Gurkha Tradition Himalayan Curry Pork
A fresh mint flavoured curry cooked with homemade green chutney, a hot curry cooked with onion pepper green chilli and homemade yoghurt
£5.99
Gurkha Tradition Himalayan Curry Lamb
A fresh mint flavoured curry cooked with homemade green chutney, a hot curry cooked with onion pepper green chilli and homemade yoghurt
£6.99
Gurkha Tradition Himalayan Curry Prawn
A fresh mint flavoured curry cooked with homemade green chutney, a hot curry cooked with onion pepper green chilli and homemade yoghurt
£7.50
Gurkha Masala Chicken
(Any strength) phal, vindaloo, madras or mild
£5.99
Gurkha Masala Pork
(Any strength) phal, vindaloo, madras or mild
£5.99
Gurkha Masala Lamb
(Any strength) phal, vindaloo, madras or mild
£6.90
Gurkha Masala Prawn
(Any strength) phal, vindaloo, madras or mild
£7.50
Gurkha Karahi (Gurkha Style) Vegetable
A dark rich sauce cooked with onion, pepper, tomatoes and sizzling with ghee whole zeera
£4.99
Gurkha Karahi (Gurkha Style) Chicken
A dark rich sauce cooked with onion, pepper, tomatoes and sizzling with ghee whole zeera
£5.99
Gurkha Karahi (Gurkha Style) Pork
A dark rich sauce cooked with onion, pepper, tomatoes and sizzling with ghee whole zeera
£5.99
Gurkha Karahi (Gurkha Style) Lamb
A dark rich sauce cooked with onion, pepper, tomatoes and sizzling with ghee whole zeera
£6.99
Gurkha Karahi (Gurkha Style) Prawn
A dark rich sauce cooked with onion, pepper, tomatoes and sizzling with ghee whole zeera
£7.99
Gurkha Karahi (Gurkha Style) King Prawn
A dark rich sauce cooked with onion, pepper, tomatoes and sizzling with ghee whole zeera
£9.99
Chilli Momo (10 Pieces) Vegetable
Dumplings pan fried with chilli, pepper & tomato in chef's special spicy sauce most popular Nepalese appetizer. (Please allow 40 minutes to deliver)
Separate chutney
£6.00
Steamed Momo (10 Pieces) Vegetable
Steam cooked and served with homemade chutney
£4.99
Jhaneko Sekuwa King Prawn
Marinated chicken or lamb chunks barbecued in tandoor then pan fried with fresh herbs
£6.99
Jhaneko Sekuwa Paneer
Marinated chicken or lamb chunks barbecued in tandoor then pan fried with fresh herbs
£5.50
Pork Curry
Cooked in Gurkha masala flavour fresh garlic and ginger
£4.99
Lasun Kukhura (Garlic Chicken)
Chicken breast cooked flavour of fresh garlic
£5.50
Garlic Prawn
Prawn cooked in Gurkha masala flavour fresh garlic
£6.99
Butter Chicken (Makhani)
Cooked with buttery tomato sauce spiked with dry fenugreek leaves serve medium or hot
£6.50
Jwano Chicken
Cooked with special thick sauce of lovage seed flavour
£5.50
Jwano Pork
Cooked with special thick sauce of lovage seed flavour
£5.50
Jwano Lamb
Cooked with special thick sauce of lovage seed flavour
£6.50
Chicken Chilli (Dry Dish)
Chicken pan fried with capsicum, onion garlic green chilly oriental style
£5.99
Poleko Paneer (8 Pieces)
Marinated in mild spiced herb and chargrill with onion, tomatoes and capsicum
£6.50
Lamb Tikka Main (12 Pieces)
Marinated with Nepalese spice then barbequed with fresh onion
£6.99
Chicken Tikka Main (12 Pieces)
Marinated with Nepalese spice then barbequed with fresh onion
£6.50
Chicken Shashlik (12 Pieces)
Marinated fresh yoghurt, fresh garlic, ginger light spice with onion, tomatoes and peppers
£6.99
Lamb Shashlik (12 Pieces)
Marinated fresh yoghurt, fresh garlic, ginger, light spice with onion, tomatoes and peppers
£6.99
Tandoori Chicken Main - Half
Juicy spring chicken marinated in aromatic Nepalese spices and barbequed in the tandoor
£5.00
Mix Grill
Assorted dish of lamb, chicken tikka, tandoori chicken & prawn
£7.99
Biryani Dishes Vegetable
Cooked in pure ghee, brown onion, dry mint, basmati rice serve with vegetable curry
£5.99
Biryani Dishes Chicken
Cooked in pure ghee, brown onion, dry mint, basmati rice serve with vegetable curry
£6.99
Biryani Dishes Pork
Cooked in pure ghee, brown onion, dry mint, basmati rice serve with vegetable curry
£6.99
Biryani Dishes Lamb
Cooked in pure ghee, brown onion, dry mint, basmati rice serve with vegetable curry
£7.99
Biryani Dishes Prawn
Cooked in pure ghee, brown onion, dry mint, basmati rice serve with vegetable curry
£8.99
Biryani Dishes King Prawn
Cooked in pure ghee, brown onion, dry mint, basmati rice serve with vegetable curry
£9.99
Biryani Dishes Mix
Cooked in pure ghee, brown onion, dry mint, basmati rice serve with vegetable curry
£10.99
Biryani Dishes Tandoori Chicken
Cooked in pure ghee, brown onion, dry mint, basmati rice serve with vegetable curry
£8.99
Set Meal 1
Starter - 2 onion bhaji, 1 poppadom with mint sauce
Main meal - 1 curry (pork, chicken or lamb)
Side dish - pilau rice & naan bread
£11.00
Set Meal for 4
Starter - lamb jhaneko sekuwa, chicken tikka starter 8, samosa 4 & 4 poppadom
Main meal - prawn curry, lamb curry, chicken curry or pork curry (4 choices) (if you would like any other curry flavour please write in the comments box)
Side dish - plain rice, pilau rice, mushroom rice, special fried rice (4 choices) sag aloo, Bombay aloo, matter paneer and 2 naan breads
£42.00
Set Meal 2
Starter - vegetarian samosa 2, chicken tikka starter, 2 poppadom & mint sauce
Main meal - Gurkha delight curry (2 choices) pork, prawn, chicken or lamb
Side dish - Aloodom, mixed vegetable curry, 2 pilau rice and naan bread
£23.00
Bombay Aloo
Potatoes in rich sauce
£2.99
Aloo Chana
A classic combination of potatoes with chickpeas
£2.99
Mushroom Panner
Stir fried lady's finger & potatoes with spices
£3.99
Saag Aloo
Spinach with potatoes
£3.50
Aloo Gopi
Potato and cauliflower with thick sauce
£2.99
Mushroom Bhaji
Fresh mushrooms cooked with onion, pepper & tomato sauce
£3.50
Tarka Daal (Lentils)
Daal fried with garlic
£2.99
Mixed Vegetable
Fresh mixed seasonal vegetable cooked with curry sauce
£2.99
Saag Paneer
Spinach & homemade cottage cheese cooked in creamy sauce
£3.99
Mattar Paneer
Green peas & homemade cottage cheese cooked in creamy sauce
£3.99
Samosa Veg (2 Pieces)
Crispy deep fried outers filled with spicy chopped potatoes & green peas stuffing
£2.50
Onion Bhaji (2 Pieces)
Sliced onion bound with cumin seeds, carom seeds, egg, a spiced gram flour paste & deep fried
£2.50
Spring Roll (10 Pieces)
Fresh vegetables mashed with onion, rolled & deep fried
£2.50
Chicken Tikka Starter (6 Pieces)
Marinated with fresh garlic, ginger paste, homemade yoghurt & Indian spice then cooked in clay oven
£3.50
Seekh Kebab
Lamb minced with Nepalese spice serve with green salad
£3.50
Chicken Bite Hot
Chicken meatball hot spice or medium, pan fried with pepper, onion and spice
£3.50
Chicken Bite Medium
Chicken meatball hot spice or medium, pan fried with pepper, onion and spice
£3.50
Lamb Tikka Starter (6 Pieces)
Marinated with fresh garlic, ginger paste, homemade yoghurt & Indian spice then cooked in clay oven
£3.50
Quarter Tandoori Chicken
Nepali style juicy and marinated aromatic Nepalese spices and barbecue in the tandoori clay oven
£3.50
King Prawn Butterfly
Marinated with the Nepalese spices and deep-fried served with salad
£4.50
Chicken Pakora
Strips of chicken breast slightly spiced dipped in gram flour, butter & deep fried
£3.99
Fried Pork Ribs Dry
Hot, sweet chilli or dry
£4.50
Prawn Pakora
Strips of chicken breast slightly spiced dipped in garam flour, butter & deep fried
£3.99
Prawn Puree
Raw prawn marinated with Nepalese spices dry fried served with bread
£4.50
Chicken Chaat
Tandoori chicken, chat masala cooked and served with bread
£3.50
Momo Fried (6 Pieces)
Dumpling pan fried chicken, pork or vegetable serve with Nepalese chutney
£4.50
Gurkha Delights Large Stater - Medium Hot
Tandoori lamb, chicken, prawn and potatoes
£6.99
Madras (Small) Vegetable
Cooked fairly hot sauce
£3.50
Madras (Small) Chicken
Cooked fairly hot sauce
£4.50
Madras (Small) Chicken Tikka
Cooked fairly hot sauce
£4.99
Madras (Small) Lamb
Cooked fairly hot sauce
£4.99
Madras (Small) Prawn
Cooked fairly hot sauce
£5.50
Madras (Large) Vegetable
Cooked fairly hot sauce
£4.50
Madras (Large) Chicken
Cooked fairly hot sauce
£5.50
Madras (Large) Chicken Tikka
Cooked fairly hot sauce
£6.99
Madras (Large) Lamb
Cooked fairly hot sauce
£6.99
Madras (Large) Lamb Tikka
Cooked fairly hot sauce
£7.50
Madras (Large) Prawn
Cooked fairly hot sauce
£6.99
Madras (Large) King Prawn
Cooked fairly hot sauce
£9.50
Vindaloo (Small) Vegetable
Cooked fairly hot sauce
£3.50
Vindaloo (Small) Chicken
Cooked fairly hot sauce
£4.50
Vindaloo (Small) Chicken Tikka
Cooked fairly hot sauce
£4.99
Vindaloo (Small) Lamb
Cooked fairly hot sauce
£4.99
Vindaloo (Small) Prawn
Cooked fairly hot sauce
£5.50
Vindaloo (Large) Vegetable
Cooked fairly hot sauce
£4.50
Vindaloo (Large) Chicken
Cooked fairly hot sauce
£5.50
Vindaloo (Large) Chicken Tikka
Cooked fairly hot sauce
£6.99
Vindaloo (Large) Lamb
Cooked fairly hot sauce
£6.99
Vindaloo (Large) Lamb Tikka
Cooked fairly hot sauce
£7.50
Vindaloo (Large) Prawn
Cooked fairly hot sauce
£6.99
Vindaloo (Large) King Prawn
Cooked fairly hot sauce
£9.50
Phall (Small) Vegetable
Cooked fairly hot sauce
£3.50
Phall (Small) Chicken
Cooked fairly hot sauce
£4.50
Phall (Small) Chicken Tikka
Cooked fairly hot sauce
£4.99
Phall (Small) Lamb
Cooked fairly hot sauce
£4.99
Phall (Large) Vegetable
Cooked fairly hot sauce
£4.50
Phall (Large) Chicken
Cooked fairly hot sauce
£5.50
Phall (Large) Chicken Tikka
Cooked fairly hot sauce
£6.99
Phall (Large) Lamb
Cooked fairly hot sauce
£6.99
Phall (Large) Lamb Tikka
Cooked fairly hot sauce
£7.50
Phall (Large) Prawn
Cooked fairly hot sauce
£6.99
Phall (Large) King Prawn
Cooked fairly hot sauce
£9.50
Jalfrezi (Small) Chicken
Fairly hot sauce with onions, peppers, tomatoes & green chilli
£5.50
Jalfrezi (Small) Lamb
Fairly hot sauce with onions, peppers, tomatoes & green chilli
£5.50
Jalfrezi (Small) Prawn
Fairly hot sauce with onions, peppers, tomatoes & green chilli
£5.99
Jalfrezi (Small) King Prawn
Fairly hot sauce with onions, peppers, tomatoes & green chilli
£7.50
Jalfrezi (Large) Chicken
Fairly hot sauce with onions, peppers, tomatoes & green chilli
£6.50
Jalfrezi (Large) Lamb
Fairly hot sauce with onions, peppers, tomatoes & green chilli
£6.99
Jalfrezi (Large) Prawn
Fairly hot sauce with onions, peppers, tomatoes & green chilli
£6.99
Jalfrezi (Large) King Prawn
Fairly hot sauce with onions, peppers, tomatoes & green chilli
£9.99
Bhuna (Small) Chicken
A dry spice sauce with fresh tomatoes & sauteed onions
£4.99
Bhuna (Small) Lamb
A dry spice sauce with fresh tomatoes & sauteed onions
£5.50
Bhuna (Small) Lamb Tikka
A dry spice sauce with fresh tomatoes & sauteed onions
£5.50
Bhuna (Small) King Prawn
A dry spice sauce with fresh tomatoes & sauteed onions
£6.99
Bhuna (Large) Chicken
A dry spice sauce with fresh tomatoes & sauteed onions
£5.99
Bhuna (Large) Chicken Tikka Masala
A dry spice sauce with fresh tomatoes & sauteed onions
£6.50
Bhuna (Large) Lamb
A dry spice sauce with fresh tomatoes & sauteed onions
£6.99
Bhuna (Large) Lamb Tikka
A dry spice sauce with fresh tomatoes & sauteed onions
£6.99
Bhuna (Large) Prawn
A dry spice sauce with fresh tomatoes & sauteed onions
£7.50
Bhuna (Large) King Prawn
A dry spice sauce with fresh tomatoes & sauteed onions
£9.50
Dansak (Small) Vegetable
A hot, sweet & sour sauce with assorted lentils
£3.50
Dansak (Small) Chicken
A hot, sweet & sour sauce with assorted lentils
£4.50
Dansak (Small) Lamb
A hot, sweet & sour sauce with assorted lentils
£4.99
Dansak (Small) Prawn
A hot, sweet & sour sauce with assorted lentils
£5.50
Dansak (Small) King Prawn
A hot, sweet & sour sauce with assorted lentils
£6.50
Dansak (Large) Vegetable
A hot, sweet & sour sauce with assorted lentils
£4.99
Dansak (Large) Chicken
A hot, sweet & sour sauce with assorted lentils
£5.99
Dansak (Large) Chicken Tikka
A hot, sweet & sour sauce with assorted lentils
£6.60
Dansak (Large) Lamb
A hot, sweet & sour sauce with assorted lentils
£5.99
Dansak (Large) Lamb Tikka
A hot, sweet & sour sauce with assorted lentils
£6.99
Dansak (Large) Prawn
A hot, sweet & sour sauce with assorted lentils
£7.50
Dansak (Large) King Prawn
A hot, sweet & sour sauce with assorted lentils
£8.50
Korma (Small) Vegetable
A very mild dish cooked with fresh coconut cream and almonds
£4.50
Korma (Small) Chicken
A very mild dish cooked with fresh coconut cream and almonds
£4.99
Korma (Small) Lamb
A very mild dish cooked with fresh coconut cream and almonds
£5.50
Korma (Small) Prawn
A very mild dish cooked with fresh coconut cream and almonds
£5.50
Korma (Small) King Prawn
A very mild dish cooked with fresh coconut cream and almonds
£6.99
Tikka Masala (Small) Paneer
A hot, sweet and sour sauce with assorted lentils
£4.50
Tikka Masala (Small) Chicken
A hot, sweet and sour sauce with assorted lentils
£4.99
Tikka Masala (Small) Lamb
A hot, sweet and sour sauce with assorted lentils
£5.50
Tikka Masala (Small) Prawn
A hot, sweet and sour sauce with assorted lentils
£5.99
Tikka Masala (Small) King Prawn
A hot, sweet and sour sauce with assorted lentils
£6.99
Tikka Masala (Large) Paneer
A hot, sweet and sour sauce with assorted lentils
£5.50
Tikka Masala (Large) Chicken
A hot, sweet and sour sauce with assorted lentils
£5.99
Tikka Masala (Large) Lamb
A hot, sweet and sour sauce with assorted lentils
£5.99
Tikka Masala (Large) Prawn
A hot, sweet and sour sauce with assorted lentils
£7.50
Tikka Masala (Large) King Prawn
A hot, sweet and sour sauce with assorted lentils
£9.50
Pasanda (Small) Paneer
Almond, sultana in a creamy sauce
£3.99
Pasanda (Small) Chicken
Almond, sultana in a creamy sauce
£4.99
Pasanda (Small) Lamb
Almond, sultana in a creamy sauce
£5.50
Pasanda (Small) Prawn
Almond, sultana in a creamy sauce
£5.99
Pasanda (Small) King Prawn
Almond, sultana in a creamy sauce
£6.99
Pasanda (Large) Paneer
Almond, sultana in a creamy sauce
£4.99
Pasanda (Large) Chicken
Almond, sultana in a creamy sauce
£5.99
Pasanda (Large) Lamb
Almond, sultana in a creamy sauce
£6.50
Pasanda (Large) Prawn
Almond, sultana in a creamy sauce
£7.99
Pasanda (Large) King Prawn
Almond, sultana in a creamy sauce
£9.50
Chow Mein (Small) Vegetable
Fresh Gurkha delight Chow mein stir fried with onion, oyster sauce and dark sauce,
hot/medium
£3.50
Chow Mein (Small) Pork
Fresh Gurkha delight Chow mein stir fried with onion, oyster sauce and dark sauce,
hot/medium
£3.99
Chow Mein (Small) Chicken
Fresh Gurkha delight Chow mein stir fried with onion, oyster sauce and dark sauce,
hot/medium
£3.50
Chow Mein (Small) Prawn
Fresh Gurkha delight Chow mein stir fried with onion, oyster sauce and dark sauce,
hot/medium
£4.50
Chow Mein (Small) Mix
Fresh Gurkha delight Chow mein stir fried with onion, oyster sauce and dark sauce,
hot/medium
£4.99
Chow Mein (Large) Vegetable
Fresh Gurkha delight Chow mein stir fried with onion, oyster sauce and dark sauce,
hot/medium
£4.50
Chow Mein (Large) Pork
Fresh Gurkha delight Chow mein stir fried with onion, oyster sauce and dark sauce,
hot/medium
£4.99
Chow Mein (Large) Chicken
Fresh Gurkha delight Chow mein stir fried with onion, oyster sauce and dark sauce,
hot/medium
£4.99
Chow Mein (Large) Prawn
Fresh Gurkha delight Chow mein stir fried with onion, oyster sauce and dark sauce,
hot/medium
£5.99
Chow Mein (Large) Mix
Fresh Gurkha delight Chow mein stir fried with onion, oyster sauce and dark sauce,
hot/medium
£5.99
Korma (Large) Vegetable
A very mild dish cooked with fresh coconut cream and almonds
£4.99
Korma (Large) Chicken
A very mild dish cooked with fresh coconut cream and almonds
£5.99
Korma (Large) Chicken Tikka
A very mild dish cooked with fresh coconut cream and almonds
£6.50
Korma (Large) Lamb
A very mild dish cooked with fresh coconut cream and almonds
£6.50
Korma (Large) Prawn
A very mild dish cooked with fresh coconut cream and almonds
£6.99
Korma (Large) King Prawn
A very mild dish cooked with fresh coconut cream and almonds
£9.50
Mushroom Fried Rice Small
£2.99
Mushroom Fried Rice Large
£3.50
Garlic Chilli Fried Rice Small
£2.99
Garlic Chilli Fried Rice Large
£3.50
Vegetable Fried Rice Small
£3.50
Vegetable Fried Rice Large
£4.50
Gurkha Special Fried Rice Small
£2.99
Gurkha Special Fried Rice Large
£3.50
Kids Meal
Chicken nuggets, chips & any soft drinks
£3.99
Contact Us
Find Us
155 London Road, Dover, CT170TG